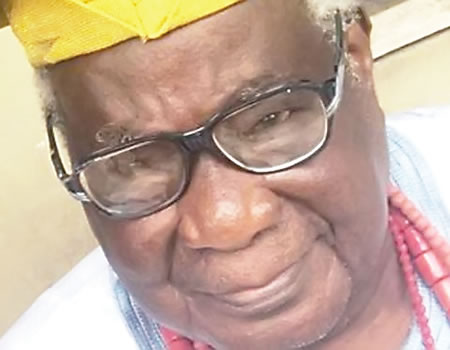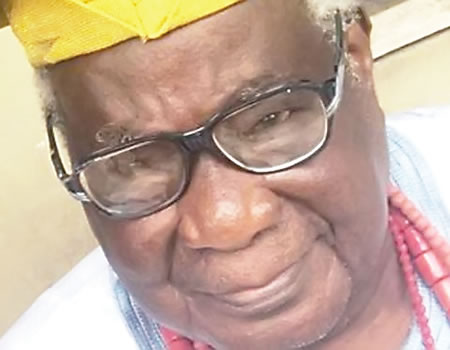 Rachel, his younger wife who gave a graphic account of his last moments, said that the novelist was very active until Tuesday evening when he complained of stomach ache and difficulty in passing stool. As a result of his condition, the wife said that the deceased ruled out the plan to attend a programme which he had prepared for.
When death came knocking for late Pa Oladejo Okediji in the early hour of Wednesday, April 10, it did not come with the pang of pain and fright. Rather, death silently took away the legendary Yoruba writer whose hope of living up to age 90 by October 27, 2019 was dashed.
Rachel said: "Nothing suggested that baba would not live to see the light of the day on Wednesday, April 10. He had earlier on Tuesday morning taken pap and akara (bean cake) for breakfast. It was not his first time of complaining of indigestion and stomach ache. When he complained, I gave him some paraffin lotion as prescribed by his physician. He later ate pawpaw and was able to pass stool.
"When the pain persisted we took him to the hospital here in Oyo town. He became stable after being treated and I was with him. At some point, he became restless and I alerted the doctors. Few hours after, he gave up the ghost.
"He died around 4pm on Wednesday, April 10. I was with him when he breathed his last and that gave me a shock. He had a similar experience on February 13 when he complained of stomach ache and was unable to  excrete. When he made a similar complaint four days ago, I assumed that he would get over it easily. But at some point, I noticed that he stopped breathing. The doctors who came to check his pulse later confirmed that he had passed on.
"He was a loving and caring man. Despite the wide age disparity between us as a couple, he treated me as if we were age mates. What I will never forget was the decision he made to sell his vehicle to pay my son's school fees when he gained admission. Pa Okediji was very forthright; I will always remain grateful to him even in death".
Although late Pa Okediji passed on at the ripe age of 89, many of his family members, close friends, students and associates were wondering that he was active and full of life until he breathed his last. Describing him variously as a loving father, caring husband, forthright man, quintessential novelist, true lover of the African culture and Yoruba language, friends and family members who thronged his residence at Mabolaje area of Oyo town, said the octogenarian would be sorely missed for his contribution and worth.
When Saturday Tribune visited the residence of the deceased on Thursday, his immediate family members were still in deep agony as they reminisced on his rare nature, clear world views and high sense of commitment.
Among those who paid condolence visit to the deceased's family at the time Saturday Tribune visited were a renowned Yoruba poet, Olatunbosun Oladapo; a retired university don, Professor Oladejo Afolayan and Secretary, Association of Yoruba Creative Writers otherwise called 'Egbe Onkowe Yoruba', Mrs Yinka Adeboye.
Oladapo described the death of the late literary icon as a big loss to the Yoruba people and the creative writers association. He said: "As a creative genius, late Oladejo Okediji would continue to impact human race even in death because his works have outlived him. Creative minds who had passed on like Sikiru Ayinde Barrister, Chief Adebayo Faleti, Hubert Ogunde and Professor Akinwumi Ishola are remembered everyday just like Pa Okediji would be forever remembered.
"Importantly, we thank God that he came, he saw and he conquered using his specialised style of writing. He was popular for writing on detective narratives; that is an uncommon terrain in Yoruba literary works. A writer like DO Fagunwa wrote about the absurd adventures in the wild forests while Pa Okediji specialised in stories that revolve around investigation. Interestingly, he creatively employed elements of comedy in the serious issues that were treated in his books and that makes his works to stand out".
Oladapo, however, expressed worries that the death of committed literary minds like late Okediji, Fagunwa, Prof. Ishola and Faleti who made efforts to popularise Yoruba Language and culture, signalled serious setback for the language and culture as a result of deart of talents.
Prof. Afolayan said late Pa Okediji was an avid crusader for the growth of Yoruba Language. The don, who said he had read many of late Pa Okediji's prose as a learner, acknowledged the rich depth of his works saying:  "I worked briefly under him at Oranmiyan Grammar School, Ile-Ife, Osun State during my undergraduate days between 1976 and 1977.
"Pa Okediji was a great teacher of the language and culture whose intellectual contents remain apt and relevant because of the depth and richness."
Mrs Adeboye described the deceased as a lover of Yoruba culture and language who played a vital part in promoting the cultural values of the Yoruba people.
She said: "Late Pa Okediji was very active until he died. He was a former president of our association for many years and was our patron until his death. He was regular at meetings because of his love for everything that is Yoruba despite his age. He was to attend our last meeting two weeks ago but could not make it and he apologised profusely for being absent at the meeting."
Pa Okediji's children said that he effectively maintained a balance between public and private life by exhibiting high sense of love to his wife, children and family members.
His daughter, Mrs Bolaji Abdul, described the deceased as a good family man, a close friend and confidant in an interview with Saturday Tribune, saying: "My father was a gentleman. His death is painful to me but I am happy that he was not bedridden before passing on".
On what marked the man out as a rare gem in the home, she made reference to her father's role when she had delay in childbirth after getting married in 1987. She said: "My father boosted my faith by telling me that he would not die until I had a child. And, true to the saying, he lived to see my child. I knew that he could die anytime after seeing my child though."
Another child, Mrs Banke Shola, who said she learnt of her father's death through her younger sister, stated: "My father thought me about the law of Cama. He wanted all of us to read vastly. I was shocked that he died at this time because he was more active than my mother and the woman is still alive. My father brought us up to be courageous like men. He made us to fix his car tyres and weed the grass."
Okedeji was not rich in cash but Deji, one of his sons, said he had a heart of gold. The final year accountancy student of Obafemi Awolowo University (OAU), Ile-Ife, said: "I was shocked and pained when told that my father had died around 5am on Wednesday. I felt the agony of his death more because it reminded me of the value he attached to us as a father. When I was admitted for pre-degree course in Ife few years ago it was so difficult but my daddy sold his car, a BMW to pay my school fees. That really touched me.
"My father was a disciplinarian but at the same time, he was a good man. I was with him all my life. he was always there through thick and thin of life."
The astute Yoruba crime and political writer, who worked as a school teacher at Ile-Ife, Osun State for many years had to his credits Yoruba novels like 'Aja Lo leru', Agbalagba Akan, Rere Run, Atoto Arere, Ka rin ka po and Aajo Aje.
According to investigation, Okediji's greatest fear in life is the possibility of Yoruba Language going into extinction because of the negative attitude of the speakers who preferred to speak in English Language. He was variously quoted to have said that he could not understand why parents should not teach their children Yoruba Language stressing that the death of Yoruba Language is the death of Yoruba Culture.
Late Okediji, who was the Otun Baale Apaara of Oyo town, was born on October 27, 1929 and was baptised in Methodist Church, Apara in 1930.
He was enrolled at Methodist School, Apaara in January 1935  and completed his primary education at St Andrew's Primary School in 1943. He took teaching appointment in 1944 before attending Wesley College, Ibadan between 1945 and 1948. He was briefly in politics as a counselor in Oyo town between 1958 and 1961.
His interest in writing was ignited by lack of Yoruba novels in bookshops and libraries. In his college days, he loved reading literature books, but said: "The books I read in the college library were English books, written by renowned authors. When I left college, I continued reading these books. I was thinking of writing in English; I know I would have written in English, but for the request by the Western Regional Literature Committee. In 1954, the Committee advertised in the Daily Times for anybody who could write in Yoruba Language to write something contemporary and realistic; the type of books written by D. O. Fagunwa which were on fairies and witches. So, I wrote a manuscript which I sent to the Committee. It was acknowledged, but that was the end.
"In 1960, there was another advertisement by the same Committee, asking 'where can we find Oladejo Okediji'? It was the Independence Year and I was then already in Ile-Ife. I wrote back and gave them my address. Writing is not financially rewarding at all but I feel fulfilled and I am happy about it."
Talking about his plan for his next birthday in an interview that was published in the Nigerian Tribune on February 4 this year, late Okediji said: "I chose 1929 as my date of birth. Something happened in my family: a child was born on October 27, 1929 and I said I must be one day older than that child. That is why I chose October 26 and that is the date I use till date. I will be 90 in October this year, if I am still around."
The post Okediji: Last days of iconic Yoruba novelist appeared first on Tribune Online.
Read Full Story