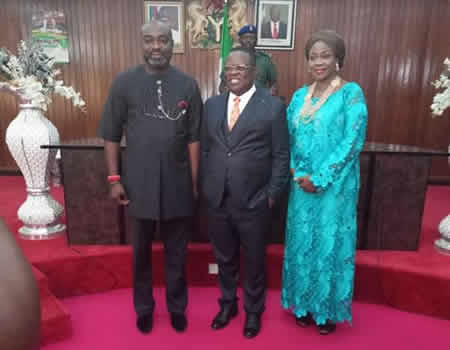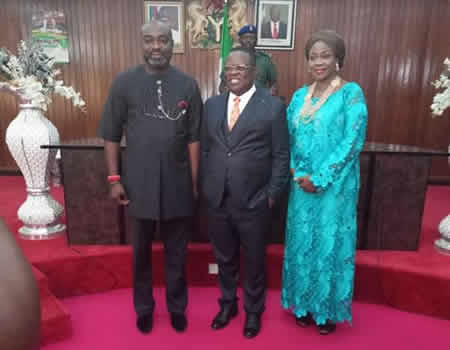 Governor of Ebonyi state, Engr. David Umahi yesterday raised an alarm that the state is loosing over 100 trucks of lead daily to theft.
Gov. Umahi who urged them to monitor and close up all linkages added that the lean internal generated revenue gathered in the state is not enough for the development of the state.
Umahi dropped the hint on Monday when he sworn in the Managing Director of the defunct Spring Bank, Mike Chukwu as the state Chairman of Internal Revenue Board, also swore- in as members of the board included; former governorship candidate of Social Democratic Party in 2011 and 2015 general elections in the state, Dr Austin Nweze, former Commissioner for Finance, Lands, Housing and Urban Development, Chief Jonah Egba.
He also gave the board three months to reposition the board and begin to generate money for the board and the state government.
His words;" we will not use government money to pay your salaries, allowances and take 5 per cent.
"So it is like a social contract, we remain the less in Internally generated revenue in the federation and we want to change that is why we are engaging you.
"But, like l always said we are loosing over 100 trucks of lead, they are carted away daily in Ebonyi state", he said.
ALSO READ: Kawu, others to appear in Court over N2.5bn fraud ? ICPC
"What we expect you to do is to come in, clean the system, ordain the system, increase the revenue by xyz and take 5% of the revenue to run the revenue board, revenue management and their appeal.
"The truth of the matter is that the lean resources of the state cannot pay the salaries and allowances of these heavy men and women.
And so, it is like a social contract. We are not doing you any favour, it is not a political appointment. We are choosing the crème of our intellectuals to assist us in this nagging problem of our revenue collection. We remain the least in the entire federation and it shouldn't be.
"The quarry alone, the lead and zinc should give us what we are looking for. So, if you focus, you will see the benefit of it. If anybody thinks that it is political patronage, it is not true because before the little money comes, the one that comes from Abuja, it is already spent. So, am appealing that this is an opportunity for us to work", he said.
Responding, Chukwu, a younger brother of former Minister of Health Professor Austin Chukwu assured that they will not betray the confidence repose in them.
The post Ebonyi loses over 100 trucks of lead daily ? Gov Umahi appeared first on Tribune Online.
Read Full Story