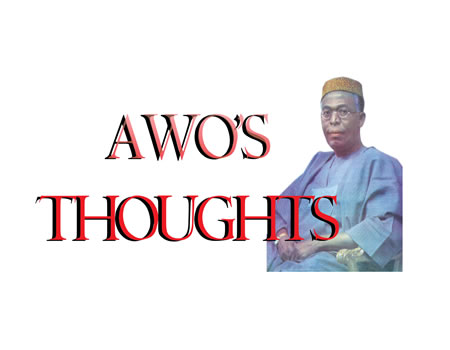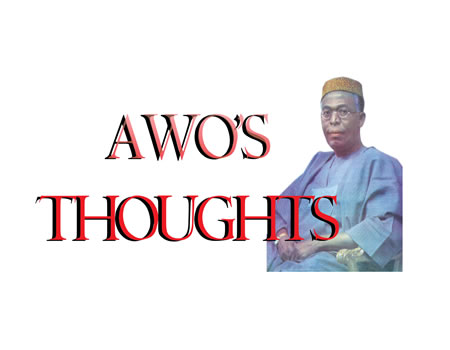 CONTINUED FROM LAST WEEK
THANKS to the development of agricultural science for its discovery of miracle grains capable of increasing output four to six times the normal quantity, and to the extent and natural fertility of our national territory, Nigeria, unlike some other parts of the world, has nothing to fear from Malthus's dire prediction which still haunts many policy scientists all over the world. In our peculiar circumstances, we can aim at a population target of well over 100
millions within the next twenty years, with a full assurance of catering comfortably and satisfactorily to their welfare. For, other things being equal, it is such a population that can assure us of a truly self-contained economy, and of voluntary inter-dependence in all things with other countries of the world.
Confident, therefore, of the realities of our present population and resources, and of our undoubted prospects for the immediate future, we can embark vigorously on a rapid agricultural and industrial development which is capable of being self-generating and self-sustaining.
We can, in the next two decades, aim at supplying most, if not all, of our basic material, and high-level manpower needs. Within the same time, our economy should be capable of sustaining modem urban areas, without the ills of city slums. We can develop a healthy and decent rural life, and provide modem health, housing, and educational facilities as well as other essential social services for all our people.
We should and can successfully aim at establishing heavy industries such as iron and steel, fertiliser, chemicals, petro-chemicals, and a wide range of capital goods. We should aim at constructing a vast and pervasive network of roads, railways, and waterways, sufficient to match the speed and mobility of a rapidly expanding and developing economy. In short, we can make the masses of our people contented and happy, and capable of realising their inherent power to appreciate knowledge and beauty, and to live in peace and harmony with themselves as well as with their neighbours.
We can do more than cater sufficiently for our people. By the sheer quantum and rich diversity of its natural and manpower resources, and granting a judicious and disciplined exploitation of these resources; Nigeria can make valuable contributions to the development of Africa, and to world economy at large for the benefit of mankind as a whole.
From 1975 onwards, it is forecast that our petroleum products will make a tremendous impact on our domestic as well as world economy. In that year, for instance, it is possible for our petroleum export to fulfil 25 per cent of total United Kingdom needs, thus assisting to maintain the strength of the Sterling as a reserve currency. It is also possible, by 1975, for our petroleum exports to different parts of the world to increase our foreign exchange earnings by nearly £300 million per annum to a total of between £500 and £600 million per annum.
With the opening of the Coal Mines at Okaba, the total known coal reserves of Nigeria are put at roughly 356 million tons. These can be exploited for the benefit of ourselves, of our immediate neighbours, and of the world at large. With the commissioning last weekend of the giant Kainji Hydro-electric Power Station, we are in a position not only to supply our total power needs, but also to help supply those of our immediate neighbours.
Though our agricultural economy is still far from being modernised, yet the improvement which has taken place in recent years, together with the change which has occurred in the structure of our trade coupled with the current rapid expansion in the spheres of our import substitution industries, we are fully poised to increase
the volume and variety of our exports of primary and semi-processed commodities, and to venture boldly into the exports of fully-manufactured goods.
In short, it is within our power, in a matter of twenty years, to raise the agricultural, industrial, and commercial competence of Nigeria to such a level as to enable it to contribute generously to world prosperity, and to the solution of the problems of international hunger and liquidity.
All these are by no means idle dreams. These broad national objectives and aspirations are goals which are well within our power to attain within the next two decades.
BUT IN ORDER TO SUCCEED IN ATTAINING THESE ENDS, WE NEED A POWERFUL NATIONAL MOTIVATION GENERATED BY ENLIGHTENED PATRIOTISM AND SUSTAINED BY AN INTENSE, ABSORBING, AND UNFLAGGING DESIRE TO ADVANCE OUR OWN ECONOMIC INTERESTS, BACKED BY CLEAR-HEADED FORWARD PLANNING, HARD WORK, AND THE CONSTANT APPLICATION OF ACUTE AND DISCIPLINED
MINDS DEDICATED TO THE ACCOMPLISHMENT OF OUR 'DECLARED OBJECTIVES.
CONTINUES NEXT WEEK
The post National goal cannot be achieved with ease and simplicity appeared first on Tribune Online.
Read Full Story