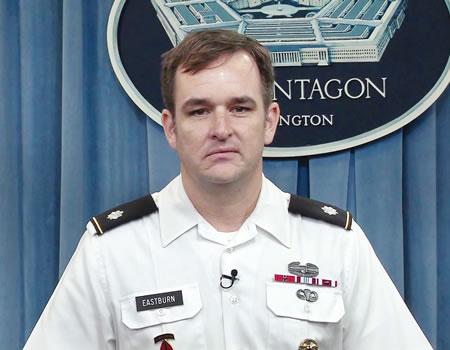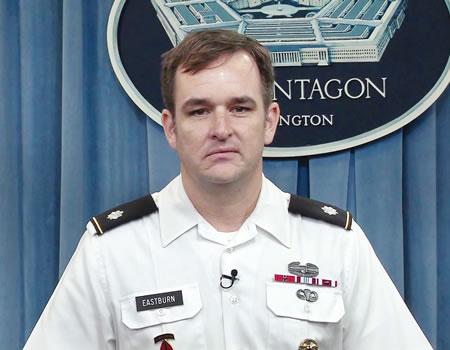 ABOUT The Pentagon
The Pentagon, the headquarters of the US Department of Defense, is the country's top security formation providing the military forces needed to deter war and ensure US security, and it's one of the world's largest office buildings, with 17.5 miles of hallways, three times the floor space of the Empire State Building, and houses about 26,000 employees.
Duties as The Pentagon Spokesman
I've been working as a press officer for the last two years and we have approximately 24 to 26 press officers who cover a wide range of topics. Personally, I cover the Indo-Asian Pacific. I cover the West Coast of California all the way to the Maldives and everything in between. So, anything happening in US Departments around the 52 US services falls in my account and that includes the relationship with North Korea, China and Asian nations, anything, a myriad of topics and subjects. One of the major aspects of my job is that we have a lot of support network organisations within the department and it is my job to coordinate with agencies like the State Department, Department of Justice, the White House and make sure their lines cross, form synergies and accuracies and give the journalists the most up-to-date, accurate information, and aligned answers you require to questions.
Operational structure with the media
Another unique aspect working here is, we have what is called The Pentagon Press Corps. We've got some radio, the print and TV guys, the digital media, and approximately, we have 64 members of the international press corps here with full access to the building. And like the White House and the Department of State, they have free range, so wherever I can go, basically they can go and they let themselves out everyday and night, and they've realised that is a privilege and they won't do anything silly to get that privilege taken away.
Managing information, especially from social media
This is a very unique environment like we have our president who is very active on social media, and sometimes we learn things that are happening across from social media. And a lot of times, I also learn about those things from the reporters, like they've come to watch whether it is from the president's Twitter feeds or not, but I'm focused on high profile issues on Asia, but when things happen, a lot of times, I learn about them from colleagues in the media. So, it is an everyday course for me to turn around to have three or four journalists turn around at my desk to ask me questions on what just happened whether here in Washington D.C. or anywhere in the world. I think a big take away from everything I do here is that everyday is different. It is like I'm equated with being like an emergency room doctor: you don't know what is coming through the door. You just have to always be prepared. That is more or less what I do on a daily basis.
Relationship with journalists at The Pentagon
I understand that the relationship we have with the press now is very different from what it has been historically in this country and I think that we do our best and tend to do a very pretty good job and provide access and transparency for you and your colleagues to ensure our messages get to you guys because we also understand you also have a good job to do and we don't want to take that job. It is like tit for tat; you scratch my back I scratch yours too. We have a good working relationship. Another thing that we do with our press here that I think is unique to me in an environment that I have been working with reporters is we have an understanding, basically, anytime a reporter walks up to me to ask questions they are always off the records. Sometimes it depends on the relationships I have with that journalist and then if they come here, that I need something on this, then I give them something with my name on it or we speak on the background, depending on how we want to work it out. So, it is an informal process inside the confines of our wall here in The Pentagon. Outside of that, it is always on the record. I studied journalism, so, the first thing they teach you in my undergraduate days in the college is, you are always on the record. When you are talking with a reporter whether you are in a restaurant, in a formal interview, you are always on the record. But that is another unique kind of "Pentagonism" which is different here than anywhere else. I've been doing this for a little over 11 years now and all of my time is either being in Asian Pacific or here covering issues.
Challenges of Trump tagging some media publishers of "fake news."
Anything about the president is not in my line to talk about, but talking generally, it is not an issue for us as much as a spokesperson. We don't feel much of that impact. But what I will say is, for most colleagues here, I think it is challenging. Certain things will come out whether from the White House or otherwise, and I think, at times, the journalists express frustrations just like in any job. We've all had jobs that maybe things didn't go as we wanted. We don't really focus on the outside of the charter, but we maintain a good relationship with our media guys here and that is what I can focus on as a spokesperson. We ensure we go out at least once in a week for a press briefing and the press room is filled up with reporters when the Acting Assistant Secretary of Defence for Public Affairs, sits down to speak on what goes on for the week, while the reporters ask questions on what is happening. We don't focus on what goes on in the outside, but we respond quickly to issues and give timely and accurate information, which I think helps, and we understand the challenges of their job in the current political dispensation and otherwise. It is our job to give the media the most accurate information as much as we can. If I don't respond on time, my credibility is on the line. If I don't provide you with the services you ask for, then you might not come to me next time. You might go to someone else in the building who can't put his name on whatever he gives you. So, I think it is a mutually beneficial relationship for us to be forthcoming, honest, upfront as possible as we can and as quick.
Managing information among over 28,500 US troops in Northeast Asia.
I've never really thought of it until you said it, but one of the benefits I have in such a large geographic area is, you know it has so many smaller footprints with US forces, whether in Tokyo or outside Tokyo, or US forces in Japan or Korea, or in Singapore. We have many subordinate organisations. The other connecting tissue that I have helping me to reach all these people lies in the agencies, my colleagues in the State Department, and every embassy has a public affairs team and attaché team. So the uniformed people or whether they wear uniform or not are at almost every embassy in the world, and with that, I also have my counterpart spokesperson from the State Department. And another unique thing we have is that the State Department runs regional media hub in Manilla and in the Philippines, and we have the access as well, which is another opportunity I have to have my leadership tapped into, and reach all of our forces.
Relationship between the South Korean military and the US military.
The US and Republic of Korea military relationship is unique. Following the Korean war, we have related shoulder-to-shoulder and it is a unique relationship in that we have one of our divisions, out of 12 or 13 US military divisions, in South Korea, a combined military division, that is two countries coming together. So, everything the US Army does in the second infantry division is bilateral, always with the Korean counterpart. It is a kind of unique environment that we are able to train and work side by side with our Korean counterparts. That not only enhances the relationship on the Peninsular, but it also enhances our ability to work together.
The post Sometimes, it is reporters that told us what President Trump posted on Twitter —Lt. Col. Eastburn, The Pentagon's spokesman appeared first on Tribune Online.
Read Full Story