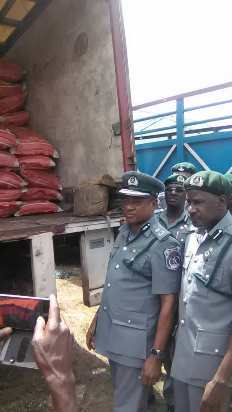 …Arrests suspect
The Oyo/Osun Command of Nigeria Customs Service ,NCS, was the beehives of activities yesterday, as the Command displayed massive seizures of rice fully loaded in over eight trucks, used tyres, bales of secondhand clothes among numerous prohibited items intercepted within few weeks of operations.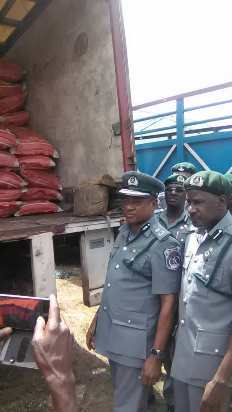 The Command swiftly arrested a suspect in connection with the seizures.
During a visit to the Command, it was observed that a large area of the barrack was used for packing different seizures, even as empty vehicles were not left out.
Most remarkably is the fact that the Customs Operatives through the supervision of the Customs Area Controller ,CAC, of the Command, Comptroller Odibu Christopher, trailed the smugglers and seized the items without any casualty.
Speaking during press conference, the CAC who has demonstrated outstanding performance and resilience within a very short period (about one month) he took over the Command,  attributed the technique through which the items were seized by his men to intelligence.
He said, "Customs operations globally require intelligence, which is the approach we are using now.  Nigeria Customs Service at present is intelligence driven, that is why we are able to achieve positive results, as you can see here".
The CAC said, "In keeping to the mandate of the Service, Oyo/Osun Command has re-strategised its operations by utilising intelligence reports gathered by officers and men, which led to the recent seizures."
He explained, "It is worrisome to note that some Nigerians remain unrepentant, even as they continue to lose. The Federal Government's effort in transforming agriculture, especially in the area of rice production should be encouraged by all".
He went on, "Let me sound a note of warning and advice to all unpatriotic Nigerians who engage in smuggling of used cars, foreign rice and other contraband items to desist and look for other legitimate means of businesses. I want to affirm that no matter  the means of conveyance or concealment of prohibited items, our officers  and men are on constant surveillance, as well as monitoring, and will uncover them".
"We are appealing to the media to partner with us in the area of enlightening  our local communities about the dire consequences of smuggling on the nation's economy".
The seized items include, DAF truck with registration number  MUS 461 XK carrying 450 bags of foreign rice, another DAF truck with registration number EKY 597 XV carrying 450 bags of rice, a  DAF truck with registration number EGB 530 XA, carrying 450 bags of rice, a blue DAF truck with registration number AGL 944 XC carrying 330 bags of rice, a white DAF truck with registration number  AKD 977 XQ seized with 400 bags of rice and a green DAF with registration number SMK 226 XR conveying 450 bags of rice.
Others include a yellow DAF with registration number MUS 961XQ carrying 450 bags of smuggled rice,  another truck with registration number LND 805 XG intercepted with 450 bags of smuggled rice, another yellow truck with registration number  EPE 894 XG seized  with 450 bags of foreign imported rice, a red Volvo wagon with registration number  DG 32 MUS conveying 50 gallons of vegetable oil, a Mazda with 30 bags of rice, 51 bales of secondhand clothes, 150 pieces of used tyres and 90 bags of rice, estimated at the Duty Paid Value ,DPV, of N92.7million."
Read Full Story